Another season is over. The dream of reaching the home Champions League final in Munich was achieved, but a happy ending was not meant to be. To add insult to injury, Bayern finished as runners-up in all competitions they played in this year.
This means that Bayern have now gone trophy-less for two seasons in a row, something which hasn't happened for exactly twenty years. Bayern did not win any titles in 1990/1, then again in 1991/2 and made it three in a row a year later.
At face value, this may sound pretty bad, and undoubtedly we are all very depressed right now after yesterday. But the future does look bright. Without a doubt, Bayern and Barcelona played the best football in the Champions League this season, and it would have been a much more deserving final had Barcelona made it. Bayern were undeserved losers yesterday, but we will have to accept it and move on. By dwelling in the past, we will only harm our chances of winning something big, and this squad is capable of that. Lahm, Schweinsteiger, Ribery and Robben are getting on in years, and unless they win something soon they might end up never winning a big trophy. But most of our squad is still young. Their whole future is ahead of them and after yesterday's loss, they'll be even more determined to win it. Still in their early twenties, many of our players have already had the bitter experience of losing the Champions League final… twice. This is very hard to accept and it could crush them, but it could also instill a determination in them that could make Bayern a fearsome force in Europe for many years to come. It's up to our coaching staff to make sure that happens.
If there's one thing Bayern lacked this season, it is depth. This affected us mostly in the league but also in the Champions League, where we had no quality subs to replace our misfiring forwards. This is what needs to change in the coming years, starting this summer. Let's take a look at our squad next season as of this moment:
Goalkeepers:
Manuel Neuer
Tom Starke
Daniel Müller
Defenders:
Philipp Lahm
Holger Badstuber
Jerome Boateng
Rafinha
Diego Contento
Daniel van Buyten
Dante
David Alaba
Midfielders:
Bastian Schweinsteiger
Luiz Gustavo
Anatoliy Tymoshchuk
Toni Kroos
Emre Can
Forwards:
Franck Ribery
Arjen Robben
Mario Gomez
Thomas Müller
Xherdan Shaqiri
That's 21 players. If we keep Heynckes, our starting formation will probably look like this: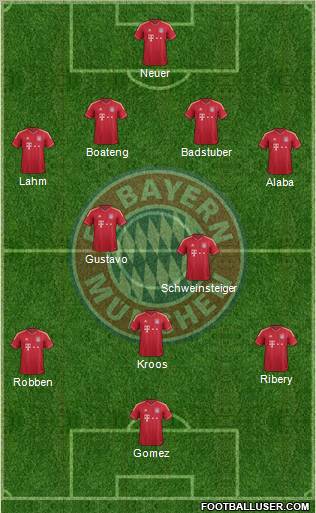 Meanwhile, our B-team would look like this: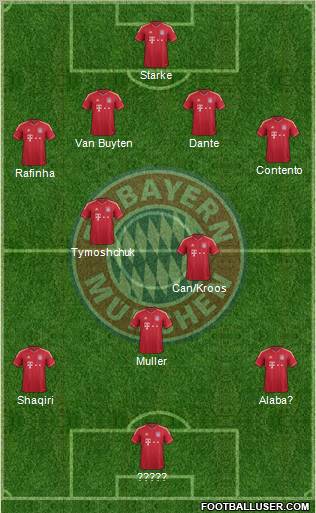 In my opinion, this clearly shows we need a new striker. Preferably, we will also get a creative central midfielder so that Kroos won't have to change positions and because still too inexperienced. Getting another winger, while not a priority, would also be helpful. Three realistic targets for these positions would be Giroud, Sahin and Mertens.
But that is still not enough. Unless we also include Muller, we only have two strikers and I believe that a team which plays a formation with one striker needs at least three strikers in its squad. Now here we have to ask an important question: How much do we believe in Giroud? The three players mentioned above would probably cost Bayern at least 30 million together, so if we are to go for another striker then it will probably be someone cheap and experienced, such as Pizarro.
As we have seen this season, teams who park the bus and teams who are good tactically have managed to shut out our one striker system, with the fullbacks and midfielders double and triple teaming our wingers while the centre backs take care of Gomez. For situations like this, we need to be able to switch to a different formation, one which uses two strikers. Depending on the game, we could either provide our strikers from the wings in 4-2-2-2, or else from the middle in Heynckes' old 4-4-2 diamond. In any case, I believe Bayern have the quality in midfield to play both very well, but the question remains, is Giroud the right man to partner Gomez in this situation? Because if not, we might either want to go for an expensive, world-class "bomb" striker instead of an experienced, cheap one, or else not buy Giroud at all. There are a few who will probably be available this summer, namely Falcao, Hulk and Dzeko. If we bring one of these, we will probably have to make do without Mertens or Sahin or even both. This is not that much of a problem because we do have other players who can play there, so I suggest that the bomb striker should take a priority. We can work on these other positions the following year, because we have already spent quite a bit on Shaqiri this summer.
Apart from transfers, as I already mentioned we need a tactical change. We must not be so obsessed with the 4-2-3-1 but we must be willing to change to other formations as well. Actually, with these transfers another formation would probably suit us better in many games, but we must be flexible enough to adapt as necessary. I believe that with the right variety of players, Heynckes could do this, but if not, we have to start looking at someone else for the coaching job. I see Heynckes as the "bridge" between laying the foundations of a golden era, and the success itself. Here are some other possible formations we can use: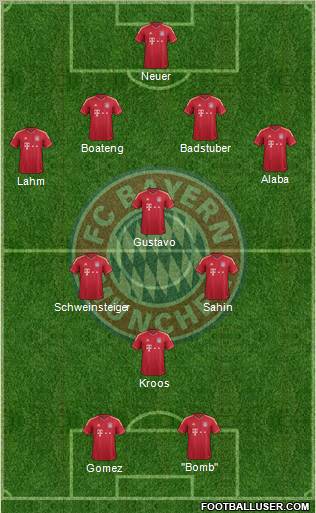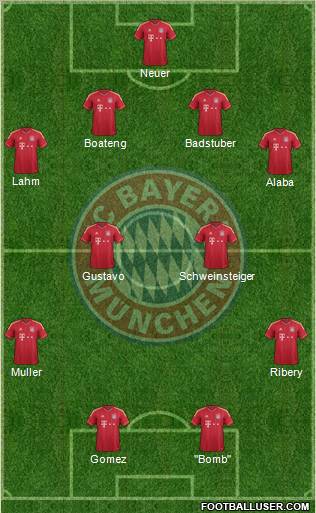 In the second formation, I picked Muller instead of Robben or Shaqiri because of crosses.
That said, I see our most realistic transfer at the moment being Giroud, and Sahin also seems possible. I don't think we are pursuing another winger and I doubt we are going for a very expensive striker. So all we can do is wait and see what the board does, hope that if Giroud comes he is good enough to partner Gomez, and hope we are not done with top transfers this summer and bring in guys like Sahin or Belhanda.
To close off, I would like to mention that I believe that what Kahn said is very possible. This Bayern squad is capable of reaching many finals in Europe throughout this decade. We have already reached two of the first three and unfortunately we haven't won either of them, but our name will be on that trophy again soon enough.
Share this article!