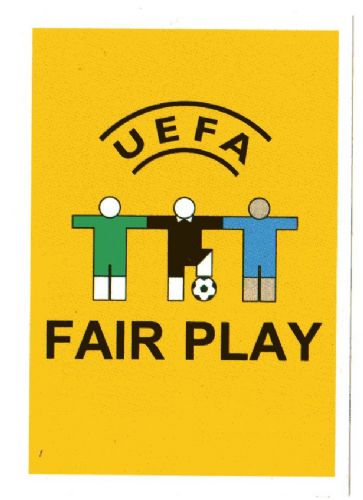 In August of 2012, Sir Alex Ferguson stated that "the game's [football] gone mad", referring to the insane amounts of money being thrown around by clubs today. A year later, the situation is even worse. Last summer Real Madrid famously broke the world record transfer fee by paying around €100 million to acquire the services of Gareth Bale. Regarding this transfer, one could extend Ferguson's statement to "humanity has gone mad". This is because in order to pay this abnormal fee, Real Madrid took a loan from a failing bank bailed out by the European Union (EU).
Of course, Real Madrid is not the only club to spend huge amounts of money thanks to help from rich owners or banks. Other notable ones are Manchester City and Chelsea in England, and Paris Saint-Germain and more recently Monaco in France. In the summer of 2012, Paris Saint-Germain and Chelsea together spent more money than 85% of European clubs combined. To solve this, the Union of European Football Associations (UEFA) came up with the Financial Fair Play (FFP) regulations. Simply put, these regulations should control clubs' spending, forcing them to reduce their deficit over the coming years and not spend more than they earn.
This seems like a noble idea. Theoretically, it will stop clubs from getting help from rich owners, barricading any shortcuts to success. And yet most of the rich clubs support the idea. Why so? The truth is that FFP is nothing less than a way to maintain the status quo, creating a situation where the big clubs get bigger and the small clubs get smaller. Before Roman Abramovich invested his money in Chelsea in 2004, the club had not won the league since 1955. Since then, Chelsea have been crowned English champions 3 times. Prior to last season, after spending loads of money, the last time Paris Saint-Germain had won the league was in 1994. A few years before the Abu Dhabi United Group purchased Manchester City, the club wasn't even playing in the Premier League. By blocking these kinds of investments, UEFA is ensuring that the established powerhouses remain on top, competing amongst each other for the major titles, particularly the UEFA Champions' League. This competition is already one of the main sources of income for clubs, with around €900 million per season being shared by the 32 competing teams. It will become even more important as a source of income with FFP. The already rich clubs will do well and become richer, while the smaller, poorer clubs have no realistic hope of ever having enough money to compete with the big boys.
Admittedly, UEFA has claimed that clubs who fail to comply with FFP regulations will be banned from participating in this competition. But is this more than just an empty threat? Money makes the world go round, and money is in UEFA's interests as well. In recent years, the UEFA Champions' League final has become the most watched annual sporting event in the world, overtaking the Super Bowl. If clubs like Real Madrid, FC Barcelona and Chelsea, which have millions of supporters worldwide, are banned from the competition, interest in the competition is bound to fall. In fact, the furthest UEFA has gone in most cases is withholding prize money from certain clubs. This does nothing to alleviate the problem. It will only put these clubs in deeper financial trouble. In one particular exception, UEFA did ban Malaga CF from the competition as a result of not paying their players' wages. By doing so, they reduced the club's income, forcing players to move elsewhere to earn wages, while at the same time destroying one of the upcoming clubs and ensuring the continued domination of FC Barcelona and Real Madrid in Spain. This case shows that no one stands to gain from FFP. Players want big salaries as well, but with these rules they will have to settle for much less than that. As a result, all of the promising players will want to play for those few clubs who can afford to pay huge salaries. In the end, the losing party will be the fans, as clubs will be forced to increase ticket prices in order to make enough money to survive.
Another problem is that the rich owners pouring money into certain clubs have found a loophole. They are sponsoring their clubs through other businesses they own in order to keep funding them. Manchester City has a deal with Etihad Airways which will earn them £400 million over the course of the contract. In September 2012, Paris-Saint Germain signed a sponsorship deal with a Qatari bank valued at €100 million per year, compared to their previous €3.5 million per year deal. A few months later they signed a four year contract with the Qatar Tourism Authority worth nearly €700 million. UEFA previously said that they will stop such deals, but what can they do? As Jonathan Reeves says, "Something is only worth what someone is willing to pay for it". And with Laurent Platini, son of UEFA president Michel Platini, directing Qatari Sports Investments (the owners of Paris Saint-Germain), does anyone really expect UEFA to interfere? Paris Saint-Germain and Monaco, two of the biggest spenders in football, play in the French league, Platini's country. Traditionally, the league is not one of the strongest in Europe, but Paris Saint-Germain made it to the quarter-finals of the UEFA Champions' League last season and they have a project centred on winning the trophy. Will Platini compromise the chances of a club from his country winning Europe's elite competition for the first time since 1993? And if he does hinder the chances of French teams, wouldn't that be more UNfair play?
Regulations only work when people respect them and when authorities enforce them. FFP has met neither of these criteria so far. The rules are only being enforced against smaller clubs while the big names have been allowed to do whatever they want. As Ferguson pointed out in August 2012, "In the conditions of European football, you don't qualify for Europe by winning the league or coming second – you only get in by invitation.".
Share this article!